Crush Depth
16 czerwca 2015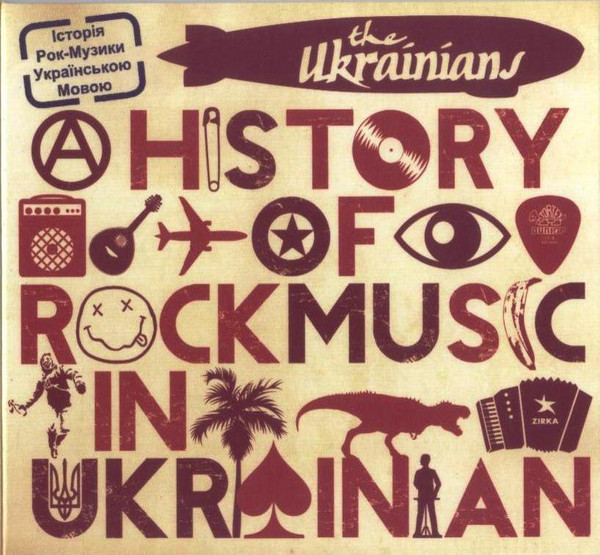 A Short History Of Rock Music In Ukrainian
2 września 2015
There's A Dream I've Been Saving – Lee Hazlewood Industries 1966-1971 [Deluxe Edition]
795.00 zł
Box Set: 4CD, 3DVD, Flexi Disc 7″, LPs 7″, Book, Photos…
Pozostało tylko: 4
Cóż, wygląda na to, że marzenia się spełniają – po 7 intensywnych latach tworzenia, Light In The Attic z dumą ogłasza nasz najbardziej ekskluzywny i bogato zapakowany projekt: "There's A Dream I've Been Saving", upamiętniający pełną spuściznę Lee Hazlewooda z lat 1966–1971.
Ten przełomowy zestaw jest ostatecznym artefaktem dla nowych i starych fanów Lee Hazlewooda, zawierający obszerną książkę w twardej oprawie liczącą 172 stron. Ale każda dobra książka zasługuje na ścieżkę dźwiękową, a w tym przypadku całość ma formę antologii z czterema płytami CD, a także nigdy wcześniej nie wydanego w 1970 roku filmu "Cowboy in Sweden" na DVD. Płyty CD zawierają znane i mniej znane utwory Hazlewood.
Jednym z najbardziej imponujących aspektów zestawu jest wspaniała książka o wymiarach LP 12 "x 12" (idealna na półkę z płytami), wypełniona rzadkimi pięknymi zdjęciami Lee, jego artystów. Strony przedstawiają pełną historię wytwórni LHI, w tym wywiady z Lee i Suzi Jane Hokum, ponowną ocenę kluczowych albumów Hazlewooda i profile artystów. W pouczającym tekście pojawia się obraz Hazlewooda – artysta utalentowany, brutalnie niezależny, bezwzględny i wizjoner.
Edycja Deluxe zestawu pudełek zawiera dodatkowo reprodukcei artefaktów z epoki, w tym zdjęcia prasowe i bilet na samolot do reprodukcji używany przez Hazlewood w latach 70-tych, dwa winylowe single. Ale prawdziwą wisienką na torcie są trzy płyty z danymi, które zawierają prawie co 45 singli i każdy LP wydany kiedykolwiek – zarówno w formatach WAV, jak i MP3. Na około 17 albumach i 72 singlach (w sumie 305 piosenek!).
To naprawdę mnóstwo Lee Hazlewooda!!!.
THE SET INCLUDES:
172 Page Hard Cover Book:
– LP-sized cloth bound book with gold foil stamp
– Over 150 rare &?unseen photos?+ In depth essays
– LHI history, album breakdowns, 27 artist profiles, LHI timeline, and interviews with Lee & dozens of label alum.
Cowboy in Sweden The Film, on DVD (1970, 60 mIns):
– First time available. New digital transfer from the original 16mm master negative at the Swedish Broadcasting Co. Fully restored in HD with re-mastered sound. Region Free.
4 CDs (107 Tracks):
– Meticulously Re-mastered. Analog transfers captured at 24-bit/96-kHz. 95% of transfers from original analog master tapes (remainder transferred from mint vinyl).
– DISCS 1 & 2: Everything Lee recorded for LHI, including every 45 single and album (Cowboy in Sweden, Forty, The Cowboy & The Lady, and Requiem For an Almost Lady), plus a handful of unreleased tracks.
– DISCS 3 & 4: Key tracks from the LHI stable? of artists, including Suzi Jane Hokom, The Kitchen Cinq, Ann-Margret, Honey Ltd., The International Submarine Band, Arthur, The Aggregation, Sanford Clark, Lynn Castle, The Surprise Package, Virgil Warner, and Hamilton Streetcar, amongst many others.
– 14 unreleased tracks
From Lee's Personal 'Stache:
– Flexi disc featuring unheard Lee 'studio chatter' ("Play it like a cowboy song")
– Reproduction of Lee's original embossed LHI business card
– 5 random copies include a "Golden Ticket" for a free subscription to Light In The Attic's Lee Hazlewood Archive Series
DELUXE EDITION EXTRAS:
(Note: Deluxe Edition includes everything above from Standard Edition plus the below extras)
3 DVDs (305 Tracks):
– LHI catalog as both WAVs & MP3s (320 Kbps) – covering 17 albums and 138 A&B sides. DVDs exclude The International Submarine Band.
– Meticulously re-mastered
– DISC 1: LHI catalog (MP3 w/ cover art)
– DISC 2: LHI LPs (WAV w/ cover art)
– DISC 3: LHI 45 Singles (WAV w/ label art)
Cloth Bound Clamshell Box:
– Gold foil stamped and debossed silhouette of Lee
From The LHI Vault:
– 6 glossy LHI promo photos?
– 1970 Hazlewood Airlines ticket
| | |
| --- | --- |
| Rok wydania | |
| Nośnik | |
| Nośnik [ilość] | 1 |
| Rodzaj wydania | REMASTERED |
| Rok nagrania | 1966-1971 |
| Dźwięk | STEREO |
| Comments | 4CD, DVD-Video, 3DVD-Data, Flexi-disc, 7", 33 ⅓ RPM, Single Sided, Red, LPs 7" 45 RPM |
| Kraj | Zagraniczna |
Tracklista
There's A Dream I've Been Saving: Lee Hazlewood Industries 1966-1971 (Deluxe Edition) [BOX SET CD]
1. Lee Hazlewood – Pray Them Bars Away
2. Lee Hazlewood With Nina Lizell – Leather And Lace
3. Lee Hazlewood – Forget Marie
4. Lee Hazlewood – Cold Hard Times
5. Lee Hazlewood – The Night Before
6. Lee Hazlewood With Nina Lizell – Hey Cowboy
7. Lee Hazlewood – No Train To Stockholm
8. Lee Hazlewood With Suzi Jane – For A Day Like Today
9. Lee Hazlewood – Easy And Me
10. Lee Hazlewood – What's More I Don't Need Her
11. Lee Hazlewood With Nina Lizell – Vem Kan Segla (I Can Sail Without The Wind)
12. Lee Hazlewood – Trouble Maker
13. Lee Hazlewood With Suzi Jane – Califia (Stone Rider)
14. Lee Hazlewood With Suzi Jane – Alone
15. Lee Hazlewood With Suzi Jane – I'll Never Fall In Love Again
16. Lee Hazlewood With Suzi Jane – No Body Like You
17. Lee Hazlewood With Suzi Jane – HokomFirst Street Blues
18. Lee Hazlewood – I'm Glad I Never
19. Lee Hazlewood – If It's Monday Morning
20. Lee Hazlewood – L.A. Lady
21. Lee Hazlewood – Won't You Tell Your Dreams
22. Lee Hazlewood – I'll Live Yesterdays
23. Lee Hazlewood – Little Miss Sunshine
24. Lee Hazlewood – Stoned Lost Child
25. Lee Hazlewood – Come On Home To Me
26. Lee Hazlewood – Must Have Been Something I Loved
27. Lee Hazlewood – I'd Rather Be Your Enemy
There's A Dream I've Been Saving: Lee Hazlewood Industries 1966-1971 (Deluxe Edition) [BOX SET CD]
1. Lee Hazlewood With Ann-Margret – Sleep In The Grass
2. Lee Hazlewood With Ann-Margret – Chico
3. Lee Hazlewood With Ann-Margret – Am I That Easy To Forget
4. Lee Hazlewood With Ann-Margret – Only Mama That'll Walk The Line
5. Lee Hazlewood With Ann-Margret – Greyhound Bus Depot
6. Lee Hazlewood With Ann-Margret – Walk On Out Of My Mind
7. Lee Hazlewood With Ann-Margret – Hangin' On
8. Lee Hazlewood With Ann-Margret – Victims Of The Night
9. Lee Hazlewood With Ann-Margret – Break My Mind
10. Lee Hazlewood With Ann-Margret – You Can't Imagine
11. Lee Hazlewood With Ann-Margret – Sweet Thing
12. Lee Hazlewood With Ann-Margret – No Regrets
13. Lee Hazlewood With Ann-Margret – Dark End Of The Street
14. Lee Hazlewood – It Was A Very Good Year
15. Lee Hazlewood – The Bed
16. Lee Hazlewood – Paris Bells
17. Lee Hazlewood – Wait Till Next Year
18. Lee Hazlewood – September Song
19. Lee Hazlewood – Let's Burn Down The Cornfield
20. Lee Hazlewood – Bye Babe
21. Lee Hazlewood – Mary
22. Lee Hazlewood – For Once In My Life
23. Lee Hazlewood – I Just Learned To Run
24. Lee Hazlewood – Me And The Wine And The City Lights
25. Lee Hazlewood – Nothin's Gonna Blow My Mind
There's A Dream I've Been Saving: Lee Hazlewood Industries 1966-1971 (Deluxe Edition) [BOX SET CD]
1. Lynn Castle With Last Friday's Fire – Rose Colored Corner
2. The Kitchen Cinq – Need All The Help I Can Get
3. Raul Danks & Jon Taylor – You Better Go
4. Last Friday's Fire – I Can't Help The Way I Feel
5. Honey Ltd. – Tomorrow Your Heart
6. Suzi Jane Hokom – Come On Sunshine
7. Suzi Jane Hokom – Little War
8. Danny Michaels – If You Climb On The Tiger's Back
9. The Kitchen Cinq – The Street Song (New York's My Home)
10. The Kitchen Cinq – I Want You
11. Raul Danks & Jon Taylor – Puppetry
12. Michael Gram – Pastel Dreams
13. Danny Michaels – And They Are Changing
14. A Handful (The Kitchen Cinq) – Does Anybody Know
15. A Handful (The Kitchen Cinq) – Wasn't It You
16. Honey Ltd. – Silk 'n' Honey
17. Hamilton Streetcar – Invisible People
18. Hamilton Streetcar – Flash
19. The Aggregation – Maharishi
20. The Aggregation – Flying Free
21. Last Friday's Fire – Something's Happening
22. Ann-Margret – You Turned My Head Around
23. Ann-Margret – It's A Nice World To Visit (But Not To Live In)
24. Ann-Margret – Sam
25. The Surprise Package – New Way Home
26. Lynn Castle With Last Friday's FireThe Lady Barber
27. Colleen Lanza – When We're Talked About Tomorrow
28. Arthur – Sunshine Soldier
There's A Dream I've Been Saving: Lee Hazlewood Industries 1966-1971 (Deluxe Edition) [BOX SET CD]
1. Sanford Clark – The Black Widow Spider
2. A Handful (The Kitchen Cinq) – Dying Daffodil Incident
3. Virgil Warner & Suzi Jane Hokom – Lady Bird
4. Virgil Warner & Suzi Jane Hokom – Summer Wine
5. Ray Chafin – Emmy
6. The International Submarine Band – Luxury Liner
7. The Shacklefords – California Sunshine Girl
8. The Shacklefords – It's My Time
9. Danny Michaels – Hands
10. Suzi Jane Hokom – Same Old Songs
11. Suzi Jane Hokom – Reason To Believe
12. Virgil Warner – The Man I Was Yesterday
13. Eve – Dusty Roads
14. Eve – Hello L.A., Bye Bye Birmingham
15. Joe Cannon – Warm Miami Sunshine
16. Joe Cannon – Lonesome Wheels
17. Joe Cannon – Cold Hard Times
18. Rabbitt – Peppermint Morning
19. Phoenix 70 – Goin' On
20. Billie Dearborn – Friday's Child
21. Jon Christian – I Feel Love Coming On
22. Barbara Randolph – Ten Or Eleven Towns Ago
23. Barbara Randolph – Miracle On 19th Street
24. Barbara Randolph – Cheap Lovin'
25. Don Randi – Chain Of Fools
26. The Woodchucks – Angry Generation
27. Larry Marks – The Start
There's A Dream I've Been Saving: Lee Hazlewood Industries 1966-1971 (Deluxe Edition) [BOX SET CD]
1. Lee Hazlewood – Cowboy In Sweden
There's A Dream I've Been Saving: Lee Hazlewood Industries 1966-1971 (Deluxe Edition) [BOX SET CD]
1. 1-10 LHI Catalog – LPs & 45s (MP3 With Cover Art) / LHI LPs (MP3s) / Arthur – Dreams And Images
2. 11-20 Bob Kaufmann – Trip Thru A Blown Mind
3. 21-30 Eve – Take It And Smile
4. 31-41 Everything But The Kitchen Cinq
5. 42-49 Honey Ltd – Honey Ltd
6. 50-59 Joe Cannon – Cold Hard Times
7. 61-70 Lee Hazlewood – Cowboy In Sweden
8. 71-80 Lee Hazlewood – Forty
9. 81-90 Lee Hazlewood – Requiem For An Almost Lady
10. 91-100 Lee Hazlewood – Trouble Is A Lonesome Town
11. 101-111 Lee Hazlewood & Ann-Margret – The Cowboy & The Lady
12. 112-121 Rabbitt – Rabbitt 1
13. 122-131 Sanford Clark – Return Of The Fool
14. 132-142 The 98% American Mom and Apple Pie 1929 Crash Band
15. 143-152 The Aggregation – Mind Odyssey
16. 153-158 The Surprise Package – Free Up Free Up
17. 159-167 Virgil Warner & Suzi Jane Hokom
18. 168-305 LHI 45 Singles (MP3s)
There's A Dream I've Been Saving: Lee Hazlewood Industries 1966-1971 (Deluxe Edition) [BOX SET CD]
1. Various – LHI LPs (WAV With Cover Art)
There's A Dream I've Been Saving: Lee Hazlewood Industries 1966-1971 (Deluxe Edition) [BOX SET CD]
1. Various – LHI 45 Singles (WAV With Label Art)
There's A Dream I've Been Saving: Lee Hazlewood Industries 1966-1971 (Deluxe Edition) [BOX SET CD]
A – LPs 7″ 1. Suzi Jane Hokom – For A Day Like Today (Take 4)
B – LPs 7″ 1. Lee Hazlewood – Sweet Ride (Demo)
There's A Dream I've Been Saving: Lee Hazlewood Industries 1966-1971 (Deluxe Edition) [BOX SET CD]
1. Lee Hazlewood – 'Studio Chatter' ("Play It Like A Cowboy Song")
Może spodoba się również…
2LP+CD, 12″, 33 1/3 RPM, Black Vinyl, Gatefold

145.00

zł
Podobne produkty
Jewel Case / Cardboard Slipcase

48.00

zł

/ Numer Katalogowy: THRILL 249 LP

85.00

zł

Rec.1999 / Reissue / Digipack

30.00

zł